123 GIF/JPG Optimizer
- An easy way to optimize and compress your GIF/JPG images.
What is 123 GIF/JPG Optimizer?
Confused about your GIF/JPG images? Now, you can use 123 GIF/JPG Optimizer to compress your GIF/JPG images. It is a nice utility you can use to easily optimize GIF or JPG/JPEG graphics for your Website. It can reduce your graphics' filesize effectively to make your web pages load faster!
Screenshots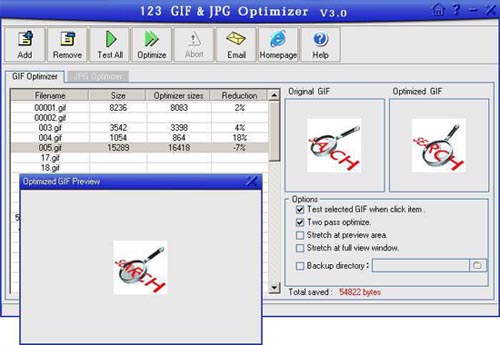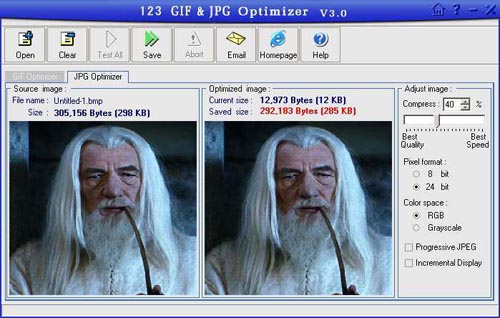 Features
Easy to use - You don't have to have a degree in imaging to get good results, just press a button!
Powerful - Lossless compression for GIF image and adjust JPG/JPEG quality by a trackbar.
Intelligent - Auto-backup option can backup your original images automaticly.
Built-in Image Browser - View original and worked images with a convenient and familiar window.
GIF Image Sample
File size reduction 65%. And it's a lossless compression.

Before Optimization (File size:8.17KB)

After Optimization (File size:2.88KB)
JPG Image Sample

Image 1. Original Image.
File Size: 55.5 KB

Image 2. Compressed Image.
Compression Ratio: 1%
File Size: 33.9 KB
File Size Reduction: 39%

Image 3. Compressed Image.
Compression Ratio: 16%
File Size: 11.2 KB
File Size Reduction: 80%

Image 4. Compressed Image.
Compression Ratio: 72%
File Size: 4.96 KB
File Size Reduction: 92%